St Louis Travel Guide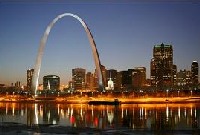 Gateway Arch, St Louis © Daniel Schwen
Fur trader Pierre Laclede settled St Louis as a French trading post in 1764 at the confluence of the Mississippi and Missouri Rivers. This location proved to be an ideal meeting point and it subsequently became a major port for boats on the Mississippi, and the main departure point for explorers on the West-bound wagon trails. As the 'Gateway to the West', St Louis became a manufacturing centre for everything a pioneer would need on his journey, such as saddles and guns, and it was here that Lewis and Clark stocked up with provisions for their famous expedition.
Today St Louis is the biggest city in Missouri and one of the largest inland ports in the country. It is a modern, commercial, industrial and cultural centre. Although a cosmopolitan river metropolis, reminders of St Louis' frontier history are in evidence throughout the city, most visibly in the shining steel Gateway Arch that is the famous landmark of St Louis, dedicated to the pioneers of the Western frontier.
It is a city with numerous personalities: a mix of authentic America with a vaguely European air. Music from the nation's past floats from the famous jazz and blues clubs over the waters of the Mississippi, paddle steamers dock along the riverfront where warehouses that once housed industrial cargoes now contain antique shops and restaurants as part of the revitalised Laclede's Landing Historic District.