Jackson Mississippi Travel Guide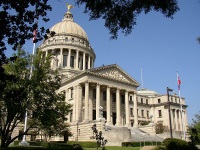 Mississippi New State Capitol Building in Jackson © CHUCK KELLY
Although it is Mississippi's largest city, and the state capital, Jackson has a slow pace with a distinctly southern lifestyle, and its population of about 400,000 is spread over a large geographic area, making it seem smaller than it is. The main landmark in the city is the old Mississippi State Capitol building in the very centre of the downtown area, modelled on the US Capitol in Washington and adding an impressive dimension to the city skyline.
Jackson meanders along the banks of the winding Pearl River, having been founded in 1821 as a trading post and incorporated into the United States in 1833 for the deliberate purpose of being the state capital. It is an exceedingly well-ordered city thanks to thoughtful town planning, but because it is spread out, exploring its distinct neighbourhoods is best done by car.
Downtown are the cultural centres, historic buildings and museums, but visitors need to travel to areas like Ridgeland, a few miles out, to find good shopping, eating, lodging and nightlife opportunities. The neighbourhood of Mid North has some great recreational areas, like Le Fleur's Bluff State Park, while to the west of Downtown is the significant Farish Street Historical District, a centre of black culture, politics, religion and business.