Baja California Travel Guide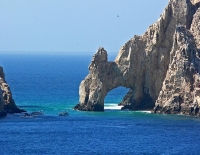 El Arco, Cabo San Lucas © Stan Shebs
Baja California is a long thin peninsula running parallel to the west coast of the Mexican mainland, separated by the Gulf of California or Sea of Cortez. It is divided into two states, Baja California Norte in the north and the southern region of Baja California Sur, and extends from Tijuana on the American border down to Cabo San Lucas at the peninsula's tip.
Baja is one of the least humid places on earth with an intensely dry climate. It is a diverse geographical area providing remarkable contrasts. This is a wildly beautiful place of unusual scenery and dramatic colour changes, of exquisitely azure bays and miles of fine white beaches, rocky cliffs giving way to dry mountainous slopes covered in a stunning display of cactus plants. The interior is harsh and undeveloped, while the coast is dotted with attractive resorts and modern towns. The protected gulf is home to more endemic species than anywhere else in the world; the warm waters are rich in marine life, and the protected waters on the Pacific coast are an important breeding ground for whales. Most resort tour operators arrange whale watching trips from January to March.
A journey down the trans-peninsula highway conveys many surprises, from the bulging and frenetic activity of the modern city of Tijuana, with its tacky souvenir shops and thriving gambling scene, to the oasis town of San Ignacio, a beautiful respite from the hot Vizcaíno Desert on its fringes, with some extraordinary cave paintings nearby. From the peaceful laid-back village of Mulegé to the tranquil port of La Paz, with a colonial centre and spectacular sunsets, and the charming traditional Mexican town of Todos Santos in the south, there are a great variety of places to explore and enjoy. The UNESCO-listed Sierra de la Laguna Biosphere Reserve, in the mountains south of La Paz, is a wonderful playground for hikers, mountain bikers and nature lovers. The Baja Peninsula also boasts the best seafood and wine in Mexico.
There is an efficient bus system that covers the distance between Tijuana and Los Cabos in 24 hours on the Trans-peninsula highway, stopping at towns along the way. Car and passenger ferry services connect Baja to the Mexican mainland and there are airports at Tijuana and near Los Cabos. Car rental companies can be found in the larger cities and at airports, although the Trans-peninsula highway is narrow and routinely travelled by trucks. Within the towns there are plenty of taxis and collectivos (shared taxi vans) for hire.