Winnipeg Travel Guide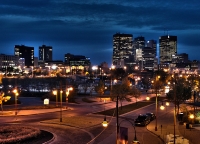 Downtown Winnipeg © Robert Linsdell
The capital of Manitoba and its largest city, Winnipeg is a friendly, laidback place with a temperamental climate and limited but well-supported tourist attractions. It's more a popular destination for people coming to live and work in Canada for extended periods of time, helped by it being a great city in which to raise a family.
Winnipeg does still have its charms for the short-term visitor. These include the historic area known as the Forks, the site of confluence of the Red and Assiniboine Rivers which attracts more than four million visitors a year; Lake Winnipeg, one of the largest freshwater lakes in Canada; the urban forest; and the Leo Mol Sculpture Garden.
The city is home to an array of art galleries and museums, as well as a strong film industry, having played host to numerous Hollywood productions over the years. The city is also home to the Royal Winnipeg Ballet, one of Canada's most celebrated companies, and the Winnipeg Jazz Festival.
With temperatures ranging from -22ºF (-30ºC) in mid-winter, to 86ºF (30ºC) in mid-summer, visitors are strongly advised to time their visit to Winnipeg to coincide with the warmer months between May and August.