Maseru Travel Guide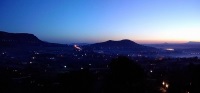 Maseru at night © Galak76
For a modern capital city, Maseru is quite a strange place, as tourists visiting Lesotho will soon find out. Way off the beaten tourist track, the main commercial and administrative centre of 'The Kingdom of the Sky' is a sleepy, dilapidated city with a distinct small-town feel. Most mid-range and budget accommodation is basic, shopping opportunities are few, and the restaurant scene isn't exactly sophisticated.
Maseru is, however, situated in one of the most beautiful regions in the whole of Africa: in the foothills of the prehistoric-looking Maloti Mountains, with a view of the jagged peaks of South Africa's Drakensberg mountain range extending to the east. Despite being situated in a slight valley (an area known as Hlabeng-Sa-Likhama), Maseru is still 5,200 feet (1,600m) above sea-level, a fact which, though contributing to harsh weather in winter, makes for impossibly beautiful, clear and crisp skies, and great mountain air.
Although there is not much to see and do in Maseru, outdoor enthusiasts will soon come to view Lesotho as a giant playground of sorts. A country full of walking and hiking trails, leading tourists up into the mountains and past rural villages and hamlets where life goes on in blissful disregard for modernity, there are also some great outdoor activities for tourists to try their hands at in Lesotho. Activities diverse as pony trekking, fishing, birding, abseiling, skiing and even paragliding are available - and these are generally well organised, and easy to get involved in (just enquire at any upmarket hotel in Maseru).
For well-heeled travellers looking to do Lesotho in style, the country also has a small but up-market selection of four and five-star hotels, game lodges, and even a hotel/casino complex.
Maseru isn't full of great shopping opportunities but does boast some unique local art and craft products that make for great souvenirs. Hand-woven mohair blankets and tapestries are probably the country's most famous export - but tourists will also find hand-made traditional music instruments, clay pottery, wire and tin figurines (these are wonderful trinkets), and beaded jewellery.
With a famously friendly local population, a slow pace of life and outstanding natural scenery, Maseru can be a gentle introduction to the African continent for foreign tourists, and holds real promise for those looking to try some outdoor activities while on holiday in southern Africa.