Tokyo Travel Guide
Tokyo Travel Guide
Tokyo is at once a neon-lit modern playground full of skyscrapers, technological wonders, and trendy nightclubs, and an ancient stronghold of Japanese culture which offers intriguing attractions for the historical sightseer.
There are a number of reasons why Japan's capital city, Tokyo, is becoming one of the world's most exciting travel destinations: it is bursting with excellent restaurants; its nightlife is one of the hottest in the world; the shopping scene purrs day and night; the crime rate is virtually non-existent; there are fascinating ancient sites to be explored; and the public transport is arguably the most efficient in the world. A holiday in Tokyo is definitely not advised for the agoraphobic, but those seeking a sophisticated getaway with a touch of genteel oriental culture will thrive in this seething metropolis, and those in search of some retail therapy will be delighted with a trip to Tokyo.
Best time to visit Tokyo
The seasons in Tokyo can be extreme, so the best time to travel to the city is during the milder seasons of autumn (September and October) or spring (March, April, May). Summers are uncomfortably hot, humid and rainy, and winters can be freezing. The famous Japanese cherry blossoms tend to bloom around March and April making this the most popular time for a holiday in Japan. Read more on Tokyo's Climate and Weather.
What to see in Tokyo
- Get an overview of Tokyo's culture and history at the fascinating Edo-Tokyo Museum.
- See Senso-Ji, the city's oldest temple, founded in 628 AD.
- Admire the profusion of cherry blossoms at Inokashiro Park.
- Marvel at views of the city from high up in the Tokyo Tower.
What to do in Tokyo
- Treat the kids to a day of fun at the Tokyo Disney Resort.
- Explore the electronic wonderland that is Akihabara shopping district.
- Visit the Meiji Jingu shrine and enjoy the museums and lush gardens.
- Stroll around the Tokyo Imperial Palace, the heart of the city.
Beyond Tokyo
Tourists keen to take excursions out of the city will find many worthwhile attractions just beyond Tokyo, including the historic city of Kamakura, with its numerous ancient temples and shrines, and the famous Mount Fuji, which is a delight for hikers. Yokohama, Japan's second largest city, is also just a quick train ride away.
Getting there
International flights land at either Tokyo International Airport (more commonly known as Haneda Airport), situated less than 12 miles (20km) south of Tokyo, or Tokyo Narita International Airport, located around 45 miles (73km) northeast of Tokyo. Both airports are easily accessible through the city's impressive public transport network. Get more information on Airports in Tokyo.
Did you know?
- Mount Takao, on the outskirts of Tokyo, is one of Japan's most visited mountains.
- Tokyo's restaurants have more Michelin stars than any other city in the world.
- Tokyo's most haunted landmark is said to be the Akasaka Mansion.
---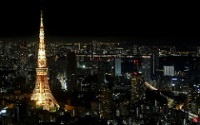 Tokyo Skyline © tetedelart1855
The modern capital city of Japan, Tokyo could be described as too good to be true. People dress in the latest fashions and experiment with the latest technologies, excellent restaurants serve up delicious food of all varieties, and the trendiest nightclubs keep going throughout the night.
The public transport system is punctual and one of the most efficient in the world; and shops and vending machines provide necessities and luxuries both day and night. All this is achieved in a city that is home to more than 13 million people, amid the confusion of bumper-to-bumper traffic, flickering neon signs, and a crush of humanity packing subways and sidewalks.
Amidst the hurly-burly, Tokyo remarkably remains one of the world's safest cities with a low crime rate and local people who are generally only too willing to spare the time and effort to assist a stranger.
With such a dense population, Tokyo is an urban maze of buildings that jostle for space in an unplanned jumble of grey concrete, which makes parts of it drab. The city fills a huge area that seems to go on forever, with no specific city centre, but rather a succession of districts grouped together. In the back streets, where timber houses line narrow lanes, there are reminders that this is exotic Japan: kimono-clad women prune bonsai trees and colourful neighbourhood festivals take place.
The city is an exuberant experience for visitors. It is home to many museums and is the largest repository of Japanese art in the world. Then, of course, it would take forever to exhaust the shopping possibilities in this megalopolis.
The more one explores Tokyo, the more it becomes obvious that one cannot judge a book by its cover. Inside the modern buildings the cultural life of Japan is very much alive and well. Interiors reflect the tranquil minimalist Asian style and taste of Japan.