Kyoto Travel Guide
Kyoto Travel Guide
True to the vision of Japan in the global imagination, Kyoto is a heartbeat of culture and history. Its traditional gardens, temples, and shrines delight visitors searching for an authentic experience of the country's ancient past:
Kyoto is like a vast museum, housing a whopping 1,600 Buddhist temples, 17 UNESCO World Heritage Sites, countless traditional shrines, and the best Zen gardens in Japan. Although the city can't compete with glittering Tokyo when it comes to nightlife and shopping, it is the ideal destination for culture vultures and the best place to do some historical sightseeing in Japan. Although it may appear to be a concrete jungle at first glance, the city has myriad hidden beauties and is a cultural treasure trove. For geishas, kabuki, and Zen, Kyoto is unbeatable.
Best time to visit Kyoto
The best time to visit Kyoto is in the mild shoulder seasons of spring (March, April) and autumn (October, November). In spring the city is festooned with the famous cherry blossoms and enjoys pleasant sunny weather, and in late autumn, once the typhoon season has passed, it is warm and boasts the vivid colours of the season. Summer can be uncomfortably hot in the city. Read more on Kyoto's Climate and Weather.
What to see in Kyoto
- Seek out traditional geisha in the historic neighbourhood of Gion.
- See the 1,000 golden statues of the Sanjusangen-do temple.
- Watch traditional Japanese dance-drama at the Minamiza Kabuki Theatre.
- Marvel at the famous Golden Pavilion just north of the city.
What to do in Kyoto
- Visit Kiyomizu-dera, one of Japan's most celebrated temples.
- Take a guided tour of the Kyoto Imperial Palace and its lovely grounds.
- Explore the temple complex of To-ji, which houses the tallest pagoda in Japan.
- Wander through the beautiful gardens of the Katsura Imperial Villa.
Beyond Kyoto
Japan is not a big country and Kyoto is a great base for excursions and daytrips further afield. It is a short train ride from the cities of Hiroshima and Osaka, both popular with tourists, and is even conveniently close to the capital, Tokyo. The historic city of Nara is practically on Kyoto's doorstep and boasts many ancient attractions.
Getting there
Although the city doesn't have its own airport, Kyoto's proximity to a number of other Japanese cities ensures that many airports service the area. International visitors most commonly land at Osaka Kansai International Airport. Get more information on Airports in Kyoto.
Did you know?
- Kyoto was the capital of Japan for more than 1,000 years.
- The fortune cookie is thought to have originated in Kyoto.
- Kyoto's famous Silver Pavilion has never had a trace of silver on it.
---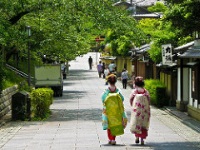 Kyoto © Shadowgate
Kyoto is Japan's most historically important city and sightseeing capital, packed with something like 1,600 Buddhist temples, 300 Shinto shrines, imperial palaces, gardens, and traditional wooden homes. All are well preserved and present a charming picture of traditional Japanese culture. The city lies in the mid-western Kansai district on the island of Honshu, surrounded by plains full of rice paddies which complete its old-world feel.
Visitors arriving from the Kansai International Airport or on board the famous Shinkansen bullet train at Kyoto's modern central station may be disenchanted to initially discover a thriving, overcrowded industrial city with a straight grid of uniform streets presided over by the futuristic Kyoto Tower.
The city may present a modern face, but explore behind the scenes in the outer districts or off the beaten track in the old merchants' quarters and you will glimpse cameos and images of traditional Japan, from cherry blossoms to geishas and bonsai trees to shoji screens.
Apart from the architectural legacy, which was fortunately spared the heavy bombings inflicted on other Japanese cities during World War II, Kyoto also boasts some of Japan's most significant artworks, a culturally traditional way of life, and superior cuisine. No visit to Japan is complete without devoting some time to exploring Kyoto.