Kingston Travel Guide
Kingston Travel Guide
Bustling, squalid and soulful, Kingston is the heart of one of the Caribbean's most alluring islands and offers visitors a good dose of natural beauty, a dash of urban ugliness, and a rollicking party scene.
A holiday in Kingston is best spent at one of the beach resorts adjacent to the city itself, but no one who visits Jamaica should miss out on exploring the capital. A Kingston holiday attracts reggae fanatics, Rastafarians, those interested in Caribbean art and music, and many a party animal keen to enjoy the vibey nightlife. The city is nestled in an idyllic tropical landscape with beautiful beaches on its doorstep and the Blue Mountains looming behind, beckoning birders and hikers onto its lush slopes.
Kingston is an enigmatic city, difficult to define, and with a culture that sets it slightly apart from the rest of the island nation. Parts of the inner-city can be dangerous and are best avoided, but generally Kingston is welcoming and captivating, combining the legacy of famous sons like Bob Marley with a forward-looking, modern drive.
Best time to visit Kingston
Holiday in Kingston any time of year and you are assured of sunshine and sultry tropical days and nights. Mountains shelter the city from most of the rain, so even if you travel to Kingston during the Caribbean rainy season (May to November), you are unlikely to have tropical storms spoiling your fun. Having said that, most visitors prefer to avoid the hurricane season in Jamaica (June to November) and tourism peaks in the dry season between mid-December and mid-April.
Read more on Kingston's Climate and Weather.
What to see in Kingston
- Celebrate Jamaica's most iconic native son at the Bob Marley Museum.
- Explore Devon House, a wonderful example of Jamaican Georgian architecture.
- Learn about Jamaican art at the National Gallery.
- Admire the historic old buildings of picturesque Spanish Town.
What to do in Kingston
- Hike one of the stunning trails in the Blue Mountains.
- Enjoy a picnic in the tropical beauty of the Hope Botanical Gardens.
- Visit the Jablum Coffee Company and sample their famous Blue Mountain coffee.
- Stroll around the old pirate hangout of Port Royal.
Beyond Kingston
Kingston is most commonly used as a springboard or starting point for travel further afield in Jamaica. Port Antonio, separated from Kingston by the Blue Mountains, is a popular destination, and Ocho Rios is also close by. Two other favourite beach resort destinations are Montego Bay and Negril, and although they are on the other side of the island, Jamaica is small enough to allow for such travel.
Getting there
The main gateway to the beaches and resorts of Jamaica, Norman Manley Kingston International Airport, is located 11 miles (18km) southeast of Kingston. The airport is undergoing an extensive renovation which will only be complete in 2022, but it is a modern and convenient airport, if a little chaotic. There are regular cheap flights to Kingston from the US and the UK.
Get more information on the Airport in Kingston.
Did you know?
- Kingston was founded in 1692, as a refuge for survivors of the earthquake that destroyed Port Royal.
- Traditionally, Queen Elizabeth II is still considered Queen of Jamaica.
- Kingston boasts the world's seventh largest natural harbour.
---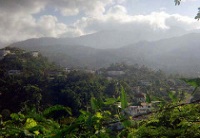 Kingston © James Willamor
The capital of Jamaica, Kingston jives to the beat of the reggae music that was born here and has swept through the world. It is the largest English-speaking city south of Miami. The city is situated on a wide plain with the world's seventh-largest natural harbour to the south, and the Blue Mountains behind.
Jamaica itself may have a reputation for being laid back and rather slow, but cosmopolitan Kingston moves at a faster pace, in keeping with its importance as the dominant force on the island politically, commercially and culturally.
Tourists tend not to stay in Kingston as such, generally heading for the northern and western beaches and resorts instead, but the city does have a wide array of historical and cultural attractions, not to mention a very sophisticated and sizzling nightlife, which draws travellers in for sightseeing and partying.
Kingston was founded in 1692 after the demise of nearby Port Royal, the former capital, which was devastated by an earthquake. Port Royal was known as the 'wicked city', being the haunt of decadent aristocrats and swashbuckling pirates. Kingston has tried to be more dignified, but it is a little grimy and crime is rife. There are also some inner-city neighbourhoods to avoid, which are more prone to drug-related killings and gang violence.