Italian Alps Travel Guide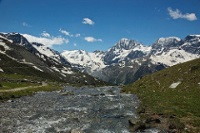 Italian Alps © John Mason
The scenic Italian Alps comprise lush valleys and pine forests set against the backdrop of jagged white peaks stretching through the clouds. Towns nestle in the valleys and ski chalets nuzzle into the crevices offered by the generous mountains. Access to the area is provided by train or bus routes snaking through the Alps, but the international cable car connection over the mountains from Chamonix (in eastern France) is by far the most spectacular way to enter the region. Tourists flock to this famously beautiful region, and the largely French influence is extended to the street names.
The Gran Paradiso National Park is a sublime experience of waterfalls, cliffs and lush vegetation. Hiking is a big attraction along the scenic mountain trails that stretch for miles and are interrupted only by mountain huts and refuges. The best months for walking are July, August and September, when most of the snow has melted into the thirsty soil. Italy's best ski resorts are in the Valle d'Aosta, within the shadows of Mont Blanc and the Matterhorn. Courmayer and Brevil Cervinia are both world-class resorts and the skiing is augmented by the matchless Italian love for cuisine and fine wines. The Italian Alps ski resorts generally cater for all levels of experience and you don't need to be a great skier to enjoy the slopes.
The valleys and higher mountains of the Italian Alps experience different climates, both in winter and summer. In winter the mountains are snow-covered, but are generally sunny with surprisingly warm daytime temperatures, while the valleys are often foggy. In summer the valleys experience warm, clear weather, while the mountains are covered in cloud. The altitude of the Alps means that nighttime temperatures will always be quite cold. Summer tends to be the rainy season, with frequent thunderstorms. The warmest temperatures, in winter and summer, are found in the great lakes region.