Crete Travel Guide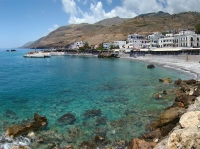 Hora Sfakion, Crete © Tango7174
The island of Crete is equipped with more tourist facilities than any other Greek island, which is fair enough because it is the largest. The reason why thousands of foreigners visit Crete each year, however, is not so much for the traditional Greek island experience, as for investigating the remains of the ancient Minoan culture that flourished here thousands of years before Christ. Some parts of the island have been overpowered by tourist resorts and massive hotels, but fortunately Crete does still allow for exploring endless beaches, numerous quaint villages, remote mountains, and some natural curiosities like caves and gorges for those who take pains to avoid the 'madding crowds'.
The famed Minoan archaeological sites, particularly the palace of Knossos and Phaistos, are vast and can take a great deal of time and effort to fully explore and appreciate. There are numerous other sites of interest as well, and not all related to the Minoan era. Crete has experienced thousands of years of habitation and has a complicated and diverse heritage, including years of Roman, Venetian and Turkish rule, that have all left their mark.
As one experienced traveller reportedly said: 'there is lots to see on Crete, and a lot not to see.' The best of Crete for those who do not want an in-and-out package style visit can be found on the east and west tips of the island, the areas that have retained most of the island's traditions and natural beauty, as opposed to the northern coast that has been harshly overdeveloped. The gateway to the island is the large, modern city of Heraklion, which is not so much an island idyll as a vital commercial centre.