Athens Travel Guide
Athens Travel Guide
Breathtakingly well-endowed with cultural and historical attractions, Greece's capital is definitely worth a visit:
Athens is charming, challenging and captivating. Its store of Classical Greek remains are an eternal drawcard for history buffs. That said, foodies, fashionistas and party-animals will relish its array of restaurants, diverse shopping opportunities, and energetic nightlife.
With its hectic traffic and frenetic pace, a holiday in Athens may be too daunting for very young children, or travellers who don't fancy bustling crowds. But, anyone with a taste for classical history, colourful street markets, and tasty Greek specialities will revel in exploring this ancient city.
Best time to visit Athens
From travellers looking to avoid tourist crowds, winter is the best time to visit Athens. Hotels offer great deals, though the odd shower may intrude on day-to-day plans.
Most visitors come during summer, in July, August and September. The season is hot and muggy, making hotel air conditioning a must. Spring and autumn may be the best times to see Athens. The weather is still warm, but most tourists have gone. Read more on Athens' Climate and Weather.
What to see in Athens
-Lose yourself in one of the best museums in the world: The National Archaeological Museum.
-Wander through the ruins of the Ancient Agora, where Plato and Socrates once spoke.
-Visit the breathtaking Benaki Museum.
-Enjoy a sunset and spectacular views from Lykavittos Hill.
What to do in Athens
-Relax in the lush National Gardens for a break from the heat and crowds.
-Go shopping and dining out in the historic neighbourhood of Plaka.
-Watch the traditional change of the guard at Syntagma Square.
-Take the kids to Allou Fun Park for thrills and giggles.
Beyond Athens
Athens is the travel hub of Greece and boasts the third largest passenger port in the world, providing the perfect means for visitors to island-hop to their heart's content. The famously lovely Saronic Islands are all an hour or two away from Piraeus Port by boat and Cape Sounion is a very popular day-trip from Athens. There are also many wonderful excursions out of Athens into mainland Greece, including trips to the mysterious site of Delphi, and the splendid Monastery of Daphni.
Getting there
Athens Eleftherios Venizelos International Airport, often just called Athens International Airport, is the main gateway to all the delights of Greece and is situated 20 miles (33km) southeast of Athens city centre. Get more information on Airports in Athens.
Did you know?
-Athens is one of the oldest cities in the world, with a history dating back at least 3 000 years.
-Over 40 percent of Greece's population lives in Athens.
-Athens is considered the birthplace of democracy.
---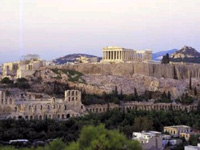 Acropolis, Athens © GNTO
Athens exudes a unique charm through its mix of street markets, vine-covered tavernas, souvenir stalls, ancient monuments and high-rise buildings. For tourists, a plus is that most of the capital's attractions are accessible by foot.
Athens was named after Athena, the Greek goddess of wisdom. According to mythology, she won the city after duelling against Poseidon, god of the sea. Indeed, Athens can chart its history back thousands of years and is regarded as the cradle of Western civilisation. More specifically, it's democracy's birthplace, and where philosophy, art and architecture were refined.
The city declined after the Classical Age, dwindling to nothing but a town in the colourful area now known as the Plaka. It emerged as independent Greece's capital in 1834.
Today, the city is bustling. And though the pollution, frantic gridlock and dingy buildings are a striking contrast to the open beauty of Greece's coast and islands, Athens is truly the country's beating heart. Ancient wonders like the Acropolis, the Parthenon, and the Temples of Zeus and Hephaestus ensure that the city will always lure travellers.