Frankfurt Travel Guide
Frankfurt Travel Guide
Known as Germany's financial powerhouse, Frankfurt is nevertheless packed with cultural and historical attractions and has a lively nightlife and restaurant scene. Frankfurt is a bustling transport hub which visitors can use as a springboard for the rest of Germany, but this vibrant city may well persuade travellers to linger:
Although millions travel through Frankfurt's international airport, and many foreigners visit frequently on business, the city is often neglected as a tourist destination. A holiday in Frankfurt can be a very rewarding experience for those who take the time to explore. In this proud, well-organised city visitors will find some superb shopping, marvellous museums, interesting historic sites, world-class opera and jazz and a few really charming neighbourhoods, such as Nordend and Bockenheim. For foodies there is plenty of great cuisine to sample in Frankfurt's celebrated restaurants and for those who enjoy historical sightseeing there are gems like the Eschenheimer Turm, a 15th-century tower once part of the city's fortifications. Frankfurt is also a surprisingly good city to explore if you're travelling with kids as there are lots of fun attractions, like the Frankfurt Zoo, to keep young minds amused.
Best time to visit Frankfurt
Those planning to travel to Frankfurt for pleasure should check the events calendar and perhaps avoid coinciding with one of the many large international trade fairs and expos that are held in the city. These can make affordable hotel rooms and restaurant bookings hard to find. Weather-wise, summer (June to August) is the best time to visit, when the weather is sunny and warm, with just the occasional wet day. Read more on Frankfurt's Climate and Weather.
What to see in Frankfurt
-Explore the impressive Historical Museum to learn about Frankfurt's cultural history.
-Visit the charmingly restored Goethe-Haus, the Baroque home of world-famous author Goethe.
-Marvel at the Gothic splendour of St Bartholomew Cathedral.
-See the Stadel Gallery, Frankfurt's most celebrated art gallery.
What to do in Frankfurt
-Wander through the different plant kingdoms of the beautiful Frankfurt Botanical Gardens.
-Take the kids to the enormous Senckenberg Museum of Natural History to admire the dinosaurs.
-Stroll through the halls of the Liebieghaus, Frankfurt's castle-like Museum of Sculpture.
-Take an excursion to Wiesbaden, Germany's most popular spa resort.
Beyond Frankfurt
Frankfurt is well-situated and well-equipped to be a doorway to the rest of Germany. There are some picturesque villages very nearby which make for fun daytrips. Possibly the most popular of these is the historic university town of Heidelberg. Frankfurt is also a gateway to the Fairy Tale Road, the path of the much-loved storytellers the Brothers Grimm, and the Romantic Road which winds through some of Germany's most charming landmarks. Mainz, the 2,000-year old capital of the Rhineland, is also close by.
Getting there
The enormous Frankfurt International Airport serves more than 50 million passengers annually and is one of Europe's busiest airports. It is situated eight miles (13km) southwest of the city centre. Alternatively, there is a small commercial airport, Frankfurt Hahn Airport, located 75 miles (120km) from the city, which is convenient for those travelling to Mainz, Heidelburg or Koblenz (although there is easy public transport into Frankfurt). Get more information on Airports in Frankfurt.
Did you know?
-Frankfurt is said to spend more money on the arts than any other city in Europe.
-About one in every four inhabitants of the city is a foreigner.
-Frankfurt is celebrated as the jazz capital of Europe.
---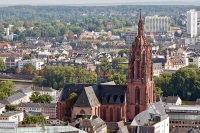 Frankfurt © Roland Meinecke
The sprawling city of Frankfurt, on the River Main, is celebrated more by businesspeople than traditional tourists, but the city offers many pleasures as well as opportunities for those doing business. Regardless of purpose, huge numbers arrive annually at Frankfurt's showpiece airport. The city is a major transport hub and an industrial and financial powerhouse not only in Germany, but the whole of central Europe. Frankfurt is home to Germany's central bank, the Bundesbank, and Europe's most important stock exchange, which has been trading since 1585.
For tourists Frankfurt does offer many intriguing sights, some great restaurants, a variety of artistic and cultural events, and excellent shopping opportunities, not to mention an energetic clubbing scene. Sightseeing attractions are mostly confined to the historical core of the city, known as the Romerberg, where Charlemagne erected his fort in medieval times. Most of the original buildings were destroyed during World War II, but some have been reconstructed, including the home of Goethe, Frankfurt's most famous son who became Germany's greatest writer. For shopping it is hard to beat the Zeil, Germany's equivalent of New York's Fifth Avenue.
With its excellent rail connections and autobahn system, Frankfurt is the natural hub for travellers wishing to explore the surrounding towns and countryside. It is also the venue for numerous trade fairs, exhibitions and congresses, drawing about 12 million visitors a year with these events. The largest and best known is the annual International Book Fair, which is attended by thousands of publishers, writers and avid readers.