Tbilisi Travel Guide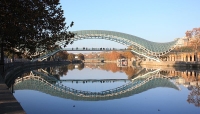 Peace Bridge, Tbilisi © George Mel
Located in eastern Georgia, in the foothills of the Trialeti Mountains, Tbilisi was founded in the 5th century by King Vakhtang Gorgasali and has served as Georgia's capital for more than a thousand years.
Despite being destroyed and rebuilt nearly 30 times, Tbilisi has largely retained its old-world charm and visitors will love strolling through the narrow alleyways of Old Tbilisi. The city's architecture is now an eclectic mix of medieval, neo-classical, Soviet, and modernist styles.
Getting around in Tbilisi is relatively easy thanks to a good public transport system: there are comprehensive bus and minibus networks, and there is a metro system running daily until about midnight. Most major tourist attractions in Tbilisi, including the Janashia Museum, the Museum of Art, the Anchiskhati Church, and the Saturday flea market, are located close to the city centre and can therefore be easily reached on foot.
Old Tbilisi offers its own attractions, including the Royal Baths and Sulfur Baths, respectively, the Narikala Fortress, and the art galleries of Chardini Street. It is home to some attractive neighbourhoods that are worth exploring, including Sololaki, Betelmi, and Mtsasminda.
There are also several stunning lakes located just outside the city that are popular destinations for weekend excursions from Tbilisi. Turtle Lake offers paddle boats, mountain and city views, and some good hikes, and is near the G. Chitaia Ethnographical Open-Air Museum. Another popular option is Lake Lisi, a larger lake that is better for swimming.
Intrepid Travel is one of the world's leading suppliers of small group adventures focused on getting off the beaten track and having real life experiences in Georgia.

---