Loire Valley Travel Guide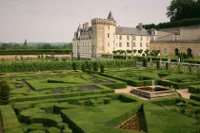 Loire Valley © Pedro Szekely
Renowned for its fine wine, sumptuous châteaux and Renaissance intrigue, the valley of the Loire is rich in both history and architecture. Like the River Loire, this vast region runs through the heart of French life. Its sophisticated cities, luxuriant landscapes and magnificent food and wine add up to a bourgeois paradise.
The Loire Valley was for a long period, until Henri IV moved his court to Paris, the home of French royalty and the intellectual capital of France. Historic towns and magnificent chateaux line the valley to this day. The towns of Tours and Angers, both on the river, act as good bases from which to explore the area and its many delights. Although there are train and bus services to most towns they are limiting for tourists and it is best to hire one's own transport to fully explore the region. Consider renting a bike; this is wonderful and easy cycling country.
Although the Loire Valley can get rain in any season the most popular time to visit is summer. However, those who want to avoid the crowds should not visit in August as this is the month when the French have their national holiday and things can get a very busy. Spring is a nice time to visit the Loire Valley because of all the beautiful gardens in the region.