Jacksonville Travel Guide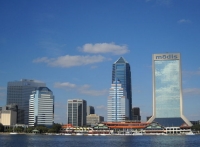 Jacksonville © Jtesla16
The city of Jacksonville, on the northeast coast of the Sunshine State, hosts more than five million visitors a year. Those who come in search of winter sunshine to one of the biggest cities in the United States will be offered miles of uncrowded sandy beaches and some of the world's greatest green golf courses. This is coupled with historic sites and neighbourhoods, culture, unique shopping and dining, lively nightlife and entertainment, river cruises, and a plethora of fun events. There are also several nature and wildlife reserves within the city limits.
A popular seaside city, Jacksonville's busy 'Jaxport' terminal is used as a base for Bahamian cruises. Many visitors who visit Jacksonville are cruise passengers spending a few days before or after their cruise exploring the city and surrounds. Jacksonville Landing (located downtown on the north bank of St John's River) is a hub of restaurants and nightlife in Jacksonville, while Hemming Plaza is surrounded by museums and beautiful city buildings that will appeal to sightseers.
It may be a big, modern city today, but Jacksonville still retains its tranquil southern charm, with oaks lining the avenues, lawns spreading alongside the river, and friendly locals greeting passers-by from their porch-swings. There is seldom a dull moment for travelers with art galleries, a brewery tour, warm waters, museums, the riverside market, historic architecture, delectable restaurants, and so much more.