Fort Lauderdale Travel Guide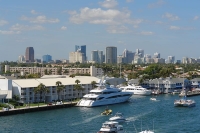 Fort Lauderdale © Kolossos
Situated in the heart of the Gold Coast, in the Sunshine State of Florida, and known as the 'Venice of America', it does not take much imagination to understand why Fort Lauderdale was once the favourite spring break holiday destination for the college crowd, and has now evolved into a sophisticated yet casual resort town attracting families and couples from all over the United States, and beyond. Fort Lauderdale is also a very popular stop for cruise ships in Florida.
Fort Lauderdale is a city of islands, built on a network of canals, rivers, bays and waterways, fronted by 23 miles (37km) of sun-kissed golden sands washed by the shimmering Atlantic Ocean. Boating is, of course, a favourite holiday pastime, as is cycling, roller-blading or simply strolling along the scenic palm-fringed beachfront promenade, which gives on to the magnificent beaches. Near Fort Lauderdale, divers on holiday are delighted by one of the only living coral reefs in the United States accessible from shore, and there are sporting facilities galore throughout the city, particularly some wonderful golf courses.
Those with a cultural bent are well catered for at the Broward Center for the Performing Arts, the Florida Grand Opera, the annual renowned Film Festival and numerous art galleries and museums. Fort Lauderdale's chic downtown shopping street is the broad avenue of Las Olas, lined with fashion boutiques, art galleries, memorable restaurants and sidewalk cafés, running its elegant course parallel to the river. Diners are catered for in more than 3,500 restaurants covering greater Fort Lauderdale, ranging from intimate cafés to al fresco waterfront terraces, quaint bistros and ethnic eateries to cosy steakhouses. As with most of Florida, the local treat is fresh seafood.
Fort Lauderdale justly boasts that it has the facilities and attractions to please any visitor on holiday, young or old, seeking fun in the sun; and if that is not enough, the exciting city of Miami lies only 40 miles (64km) away, just begging to be explored on a day trip or two.