London Travel Guide
London Travel Guide
A global powerhouse, the ancient city of London is packed with history and culture and is a perennial favourite with travellers of all kinds:
England's historic capital was the centre of the British Empire for generations, and is imbued with an incredible sense of history; visitors to London often feel that the city is familiar because of all the iconic landmarks and famous buildings. Modern London has moved with the times and in addition to its proud ancient heritage it is a truly cosmopolitan city which continues to host prestigious world events. Anyone wishing to understand and explore the origins of Western culture will revel in a holiday in London, where traditional attractions still amaze and astound, but they will also be entertained by contemporary London, with its excellent restaurants, energetic nightlife, and enjoy world-class shopping.
A holiday in London is enjoyable for anyone and everyone. Families will find plenty to intrigue and delight children; couples can revel in the romance still imbued in this old city; and culture vultures will be in heaven.
Best time to visit London
The best time to holiday in London is during spring (April and May) when its famous parks erupt in a profusion of flowering bulbs, early autumn (September and October) when the trees turn into golden hues and skies are often blue, or summer (July and August) when the long evenings are a joy. Winters can gloomy, dark and cold but the cosy pubs and brilliant museums still beckon. Read more on London's Climate and Weather.
What to see in London
-Spend a few hours getting lost among the myriad treasures of the British Museum.
-Visit Madame Tussauds to meet all your favourite celebrities.
-Gawp at the magnificence of St Paul's Cathedral and Westminster Abbey.
-Get a sense of the city's rich history and see the crown jewels in the Tower of London.
What to do in London
-Take a tour of the state rooms and Queen's Gallery at Buckingham Palace.
-Sample punk culture at the fun and feisty Camden Market.
-Explore UNESCO-listed Greenwich, famous for its meridian and many museums.
-Visit the South Bank, and marvel at the breathtaking views from the London Eye.
Beyond London
England is a small country with a brilliant transport network and good roads; almost everything is easily accessible from London. Glorious attractions within reach include historic towns like Canterbury and Windsor, and grand buildings like Hampton Court Palace and Leeds Castle.
Getting there
Heathrow Airport, situated 15 miles (24km) west of London, is the busiest airport in the UK and one of the busiest in the world, and many travellers begin their London experience in this famous hub. International flights also commonly land at Gatwick Airport and London Stansted Airport. Get more information on Airports in London.
Did you know?
-Once the largest and most influential city in the world, London is still the biggest city in Western Europe and one of the largest financial centres in the world.
-London is the only city that has hosted the modern Olympic Games three times.
-Aldgate Tube Station is built on a massive plague pit containing more than 1,000 buried bodies.
---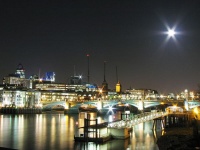 London nights © Dimitry B
Whether you arrive in London via the underground or inside one of the city's ubiquitous black taxicabs, you will immediately be greeted by a deep sense of history and met with the unique vibrancy of this incredible destination.
In its dark and troubled past, the city of London has survived Roman occupancy, sackings from the Celts, Romans, Vikings and Saxons, a Norman invasion, two great fires, the bubonic plague and Nazi bombings. This resilient and proud city promises something for everyone and is one of the most iconic tourist destinations.
The London Eye lifts visitors high above the river into stretching urban vistas. Further down on the South Bank, the Tate Modern contains one of the world's most incredible collections of Modern Art, while the city's 30,000 stores and boutiques will exhaust even the most avid shopper, and its 6,000 restaurants are only too eager to demonstrate why Britons revere their chefs as celebrities.
For those interested in exploring the country's heritage, the Tower of London is an excellent starting-point. First constructed in the 11th century, the Tower has been rebuilt several times as later monarchs have left their mark. Still one of London's biggest attractions, and a great celebration of pomp that is free to all visitors, is the Changing of the Guard at Buckingham Palace, which happens daily.
As the great dome of St Paul's reflects the colours of the setting sun, London comes alive with an unrivalled nightlife. For those up for something more energetic than dinner and the West End musicals and theatre, London has a vast number of bars and nightclubs catering to all tastes.