Copenhagen Travel Guide
Copenhagen Travel Guide
A relaxed, picturesque capital, Copenhagen is supremely well-organised and celebrated for its liberal outlook and eco-friendly attitude:
Anyone fortunate enough to holiday in Copenhagen will testify to the fact that the lovely Danish capital is one of Europe's most impressive urban destinations. Its attractions are many, and easily accessible on foot; its architecture reflects centuries of rich and interesting history; its shops are upmarket and splendid; its restaurants are superb, with far more Michelin-starred establishments than any other Scandinavian city.
A holiday in Copenhagen is a magical experience for children and anyone who is young at heart, thanks to its wonderful Tivoli funfair and the association with Hans Christian Andersen's fairytales. In addition to enjoying the carefully well-preserved city centre, much of which dates from the late 18th century or earlier, culture vultures travel to Copenhagen to enjoy its many theatres, arts events and music concerts. The Danes have refused to compromise their traditional city centre with skyscrapers and the old city is blessedly free of high-rise buildings, creating an authentic old-world atmosphere.
Best time to visit Copenhagen
A summer holiday in Copenhagen (June to August) is ideal, especially for those intent on making the most of Tivoli Gardens, the city's popular amusement park, and the pavement cafes on the pretty squares. A Copenhagen holiday is also magical in the run-up to Christmas, when the snow-covered city takes on a fairytale aspect and it is fun to shop for gifts in the Christmas markets. Read more on Copenhagen's Climate and Weather.
What to see in Copenhagen
-The heart of the city, Christiansborg Palace is the hub of Danish government and chock full of history.
-The iconic Little Mermaid statue in Langelinie Harbour is one of Copenhagen's most famous sights.
-Copenhagen is rich in world-class museums, including the Copenhagen City Museum.
-Rosenborg Castle is the historic seat of Danish royalty and houses the crown jewels.
What to do in Copenhagen
-For a taste of Copenhagen's liberal 'hippy' culture visit Freetown Christiania.
-A stroll or a boat ride down the historic Nyhavn Canal is a must.
-For thrills, spills and fresh air, Tivoli Gardens can't be missed.
-Bakken Amusement Park, said to be the oldest in the world, is a must for families travelling with kids.
Beyond Copenhagen
Popular excursions and daytrips from Copenhagen include visits to Frederiksborg Palace, in North Zealand; the UNESCO-listed Kronborg Castle, in Helsingor, immortalised in Shakespeare's Hamlet; the island of Bornholm, known as the 'Pearl of the Baltic'; the historic city of Aarhus, on the east coast of Jutland; and the beautiful island of Funen (Fyn), with its capital Odense, the birth place of Hans Christian Andersen. Families travelling with kids should be sure to visit Legoland Billund, the original Legoland Park.
Getting there
Copenhagen Airport, situated five miles (8km) southeast of Copenhagen city centre, on the island of Amager, is the biggest airport in Scandinavia and the point of entry for the majority of visitors to Denmark. Get more information on Airports in Copenhagen.
Did you know?
-Copenhagen was once a fortified city, with only three entrances.
-There is only one high-rise building in Copenhagen's city centre: the Radisson Blu Royal Hotel, built in 1960.
-Copenhagen has been rated as one of the world's top cities for cyclists.
---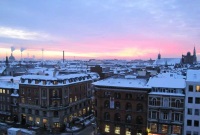 Copenhagen © Holgerbrant
The coastal city of Copenhagen is packed with old-world charm alongside avant-garde architecture. It's a vibrant and modern city, with a long and fascinating history. It has been the capital of Denmark for nearly 600 years and is home to the oldest resident monarchy in the world.
Copenhagen is the biggest city in Scandinavia, occupying a pleasant and strategic spot on the Baltic east coast of Denmark's largest island, Zealand. Its harbour is overlooked by the world-famous statue of the Little Mermaid.
Visitors are often first struck by the cleanliness and orderliness of this busy and dynamic capital. This is epitomised in the suburb of Christianshavn, with its picturesque canals and old cobbled streets all in pristine condition.
Most of the myriad attractions for visitors are situated within about one square mile (3 square km) of flat terrain in the centre, making it easy to explore on foot or by bicycle, the vehicle of choice for locals.
Five streets in the heart of the city have been merged to provide the world's longest pedestrian mall of Strøget, running between Rådhuspladsen and Kongens Nytorv. It's packed with historic gabled buildings, dynamic department stores, numerous interesting little shops, restaurants, pavement cafes, theatres, and world-class museums and galleries.
Despite the condensed city centre, Copenhagen is not short on green lungs. Parks such as the ever popular Tivoli Gardens abound in this city, which prides itself on its strict anti-pollution laws and lack of glass and chrome skyscrapers.
The birthplace of beloved storyteller Hans Christian Andersen, the city seems like a modern fairytale town. Copenhagen retains a provincial charm and sense of history along with cutting-edge efficiency, offering an extremely high standard of living.