Larnaca Travel Guide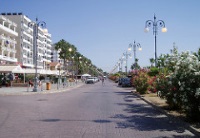 Larnaca © Glen Bowman
Larnaca is the international gateway to Cyprus, thanks to its busy international airport and seaport. Only the third largest coastal city, it remains a popular tourist hub because of its gorgeous seas, bright sandy beaches, and reliable sunny skies.
Once known as Kition in the ancient world, historical sightseeing is a bonus as ruins of its past lie strewn throughout. Its rich archaeological heritage is preserved and showcased in two of its main museums.
In addition, the Larnaca region is known as a hotspot for partying on the Mediterranean and is home to Ayia Napa, one of the most popular resort areas in Cyprus, as well as lively villages like Protaras, Kapparis, and Paralimni.
Away from the action in the towns, the region offers miles of unspoiled wilderness to explore. The Cape Greco peninsula is a government-protected conservation area with dramatic cliffs and abundant indigenous flora and fauna.
For partygoers, visitors will be glad to hear about the abundance of festivals in the Larnaca region: the flower festival of Anthestiria celebrates the return of spring, while fun parties abound during the ten days of Carnival before the Easter period. Additionally, there are music festivals as well as Easter Sunday, considered the most important holiday in the Greek Orthodox Church.