Shanghai Travel Guide
Shanghai Travel Guide
A bustling coastal metropolis, Shanghai is the perfect destination for those keen to experience China's modern face.
China's largest city is a thrilling hub of international activity that has been developed extensively over the past few decades. As the first Chinese port open for trade with the west, Shanghai has a history of integrating foreign cultures and sensibilities with its own. This multi-culturalism has largely survived the country's tumultuous politics, and visitors will notice that among other things, many of the city's buildings, particularly along the Bund, are reminiscent of spectacular colonial-era architecture.
With such a cosmopolitan global atmosphere, travellers will feel welcome and at home among the colourful crowds of Shanghai's celebrated street life.
Once a notoriously salacious city - the almost inevitable result of being built around a booming port - Shanghai is famous for its energetic and vibrant nightlife, with a near-endless selection of bars and nightclubs to keep visitors thoroughly entertained. Furthermore, as such a crossroad of cultures, Shanghai caters for the truly international pallet, boasting a diverse restaurant scene and offering some of the best shopping in the world.
Best time to visit Shanghai
The best time to visit Shanghai is in the spring (March to June), when temperate and amicable weather makes for happy sightseers. Shanghai's climate is generally humid and subtropical, with four very clearly defined seasons. Autumn (September to November) can also be a great time for travellers to visit Shanghai; however, typhoons during this time are a possibility and visitors are advised to keep an ear to the ground. Read more about Shanghai's weather and climate.
What to see in Shanghai
-Travellers should check out The Bund waterfront area for its unique architecture, entertainment, and shopping opportunities.
-Learn about the history of Chinese culture and more at the Shanghai Museum.
-Enjoy the many beautiful temples in Shanghai, such as the Jade Buddha Temple and Longhua Temple. Learn more about Shanghai attractions.
What to do in Shanghai
-Visitors trying to cope with the summer heat can visit Jinshan City Beach, a conveniently located stretch of man-made beach that is nearly one mile (1.6km) long.
-Travellers can relax in the idyllic and intricately designed Yuyuan Gardens, which have a history stretching back to the Ming Dynasty.
-Those with a penchant for haggling should browse Shanghai's many street markets, where bargaining is expected and can be a fun activity in itself.
Beyond Shanghai
Shanghai, being a city where east meets west, can be a great transitional place for visitors starting their journey further into China. The cities of Guilin and Hangzhou, both renowned for their natural beauty, are easily accessed by train or plane and offer tourists a different sort of experience of China, especially the Elephant Trunk Hill and West Lake.
Getting there
Most international flights to Shanghai land in Pudong International Airport, located 18.6 miles (30km) outside of the city. There are plenty of transportation options from the airport into the city, including taxis, buses, and the lightening-fast Shanghai Maglev train.
Public transport in Shanghai is highly developed, and travellers should have no difficulty getting around. It may be useful, however, for those not proficient in reading Chinese to plan their journey ahead of time to avoid getting lost.
Did you know?
-Shanghai cuisine is usually on the sweet side, as more sugar is used in Shanghai than any other city in China.
-English is currently a mandatory subject for children going to school in Shanghai, encouraging a high level of bilingualism throughout the city.
-Shanghai has one of the largest metro systems in the world, stretching a lengthy 334 miles (538 km).
---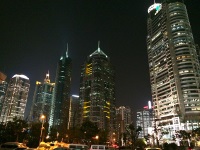 Shanghai © JesseW900
Situated on the coastline where the Yangtze River flows into the East China Sea is China's largest city, Shanghai, home to about 24 million people. The name of the city means 'on the sea', and most of it (including Chongming Island) is only a few metres above sea level, criss-crossed by a maze of picturesque natural waterways.
Shanghai is China's industrial and commercial capital. It is a busy seaport, a science and technology centre, and has a vibrant business community. Visitors don't generally come to Shanghai for its scenic beauty or history, but those who arrive on business can find plenty of off-duty entertainment and relaxation. Indeed, the city is drawing an increasing numbers of tourists with its neon cityscape, exotic nightlife, and booming shopping scene. Just walking the busy streets and soaking up the vibrant atmosphere is worthwhile, with temples and gardens to visit along with a handful of excellent museums.
This great cosmopolitan metropolis has a colourful colonial background, which has had the edge rubbed off of it during half a century of Communist rule. It was the first Chinese coastal port to be opened to Western trade in 1843, resulting in an influx of British, French, and American diplomats and business interests, each of which established their own independent enclaves. In the 1920s and 30s, Shanghai was regarded as a glamorous, decadent, and fashionable place to visit. It all ended with World War II and the coming to power of the Communist party but, since the early 1990s, a dramatic re-building programme has been underway to put Shanghai back on the map as a major international finance and trade centre. The World Financial Centre, completed in 2008, is one of the tallest buildings on Earth and symbolic of this glitzy rejuvenation.