Beijing Travel Guide
Beijing Travel Guide
With traditional hutongs and temples a stone's throw from immense skyscrapers, Beijing is a sprawling metropolis as historically rich as it is alive with modernity.
China's huge capital city is a perennial favourite with tourists and backpackers, as it has a wide range of unusual sights, sounds, smells and tastes to offer. The city's unique cultural elements are alive and well and can be experienced first-hand in Beijing's indigenous cuisine, temples and traditional performances. Beijing is nevertheless more than up-to-date with modern trends and fashions, partly as a result of its cosmopolitan expat population and partly because China is increasingly an international trend-setter in its own right.
A global hub of business, culture and entertainment, Beijing has an incredibly diverse nightlife that will keep even the most demanding of socialites satisfied at all hours. Especially during the summer months, areas like the Sanlitun bar street are buzzing from dusk till dawn. Visitors hoping to lighten their pockets will also have no shortage of shopping opportunities; from bustling markets like Silk Street (Xiushuijie) to colossal shopping malls like the 13-storey Xidan Joy Center, Beijing has it all.
China is a teeming medley of more than 50 officially recognised ethnic minorities and Beijing, as the country's capital, is suitably varied and representative. The city's many attractions are testament to this, and visitors will find exploring everything fully a near-impossible task.
Best time to visit Beijing
Beijing's climate is one of extremes. With hot, humid summers and chilling, dry winters, travellers will find that spring and autumn (April to May and September to October) are the best times of year to visit. The weather during these seasons is pleasant, temperate and highly conducive to sightseeing. Read more about Beijing's climate and weather.
What to see in Beijing
-The breath-taking and historically poignant Tiananmen Square is a must-see for those visiting Beijing.
-It is practically an obligation for travellers to journey out of the city to see the Great Wall; tourists can stroll along the historic landmark at a number of different locations.
-The Beijing National Stadium, also known as the Bird's Nest during the 2008 Olympics, is a spectacular feat of modern architecture.
-Experience the thriving Beijing art scene in 798 Space, a notable gallery in the city's famous art district. Read more about China attractions.
What to do in Beijing
-Hire a pedal boat and relax on the majestic waters of Beihai Park.
-Experience the beauty of Chinese culture in the Summer Palace.
-Take a tour of the cryptic reminder of cold-war fears that is The Underground City.
-Learn about the diversity of aquatic life at the Beijing Aquarium.
-Travellers can learn about early humans and see the remains of the famous 'Peking Man' at the Zhoukoudian Cave, just south of the city.
Beyond Beijing
Despite its size, travelling within China is relatively simple. This is especially the case from its capital city, as there are frequent buses, trains and flights going to all corners of the country. From Beijing, travellers may enjoy meandering down to Xi'an, resting place of the remarkable Terracotta Army, or to Chengdu, home of the world's largest Panda Breeding and Research Center.
Getting there
All international flights to the city will land in Beijing City International Airport, located 17 miles (28km) north of the city. From the airport, visitors can either take a taxi, shuttle service or express train to the heart of the city and beyond. Beijing's extensive public transport system, while generally crowded, is reliable; visitors should not experience much difficulty navigating.
Did you know?
-Despite being called the 'kingdom of bicycles', the number of cyclists in Beijing has more than halved in the past 15 years; this is largely a result of the city's growing middle-class, who consider owning a car to be a greater status symbol.
-Beijing's signature dish, Peking Duck, is a carefully prepared delicacy that has been around since the imperial era and is a favourite of Henry Kissinger.
-Beijing's subway is one of the busiest in the world, with more than 11 million trips on a busy day.
---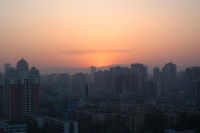 Beijing Sunset © Scott Meltzer
The capital of the People's Republic of China, Beijing (formerly Peking), is a very modern and exceedingly busy city (well over 20 million people call it home) with high-rise buildings, international hotels and sprawling suburbs. The city is abuzz with cranes on the skyline as construction projects give rise to new skyscrapers and modernisation proceeds apace. However, Beijing also encompasses numerous attractions of cultural and historical interest, some of which, including the Great Wall of China, the former Imperial Palace (known as the Forbidden City), the Temple of Heaven, the Summer Palace, and the remains of Peking Man at Zhoukoudian, are UNESCO World Heritage Sites. Chinese history and culture fascinates Western visitors, and Beijing is a great place to start exploring it. The city abounds in palaces, temples, mansions, gardens and tombs that epitomise classical Chinese architecture. It also has roughly 120 museums and more than 100 public gardens.
The first port of call for most visitors is the Forbidden City, which lies at the heart of Beijing with the rest of the city radiating out from it in a grid pattern. For five centuries this massive palace complex, with 9,999 rooms, functioned as the administrative centre of the country and home to a succession of emperors who lived in luxurious isolation, surrounded by courtiers and retainers. The Palace overlooks the infamous Tiananmen Square, a historical site of considerable political drama and dissent, but also a vibrant social and cultural centre point.
In preparing to host what they hoped to be 'the best games in Olympic history', Beijing undertook many major renovations in 2008. Public transport was improved, environmental issues addressed and a general clean-up of the city was ordered. The games highlighted Beijing's economic rise and emergence as a world power. Some of the infrastructure, such as the iconic 'Birds Nest' stadium, is still in use for different purposes, and contributes to Beijing's unique landscape. Travellers should go prepared for less than stellar air quality in this booming city, but luckily breathlessness is just as likely to stem from excitement and awe when confronted with historic Beijing.