Los Angeles Travel Guide
Los Angeles Travel Guide
The city where people travel to realise their dreams, Los Angeles is brimming with possibility and sunshine:
This is where the beautiful and talented pound the pavements, and the sights are familiar to all. Los Angeles neighbourhoods like Beverly Hills, Hollywood, Malibu, Venice Beach, Santa Monica and Bel Air are legendary and draw hordes of tourists to the sites of their favourite series. This star-struck city is a fabulous place for shopping, surfing and partying the night away, and if all the showbiz excitement and beach fun is not enough, endless entertainment is available in the many famous theme parks in and around the city.
Best time to visit Los Angeles
High season for travel to Los Angeles is during the hot, sunny months of July and August, but those who prefer to avoid crowds and high prices are better advised to choose the months either side of peak season to holiday in Los Angeles. Winter can be wet but temperatures are generally fairly mild. Read more on Los Angeles' Climate and Weather.
What to see in Los Angeles
-Explore the LA beach communities of Venice Beach, Malibu and Santa Monica.
-Pay tribute to bygone stars at the many celebrity gravesites in Los Angeles.
-See long-extinct animals at the La Brea Tar Pits.
-Marvel at the Getty Center art collection, one of the most visited museums in the US.
What to do in Los Angeles
-Take the kids to Disneyland Resort.
-Trawl Hollywood Boulevard, visiting the many museums and landmarks.
-Mingle with the rich and famous in the upmarket neighbourhoods of West LA.
-Picnic, stroll or cycle in the lovely Griffith Park.
Beyond Los Angeles
Many tourist attractions await visitors just beyond city limits, including the many theme parks clumped nearby in Anaheim. A number of glorious state parks are also within reach for daytrips from Los Angeles; even Death Valley National Park is less than five-hours drive away.
Getting there
Los Angeles International Airport is one of the busiest in the US, and indeed the world. Flights are available to LAX from major cities on all continents. The airport is situated 16 miles (26km) southwest of central Los Angeles. Get more information on Airports in Los Angeles.
Did you know?
-The iconic Hollywood sign originally read 'Hollywoodland' and was constructed as a real estate advertisement.
-On any given day more than 100 movie and television crews are shooting on location in LA.
-Los Angeles boasts more stage theatres and more museums than any other American city.
---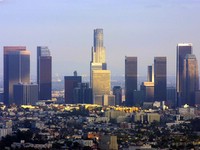 Los Angeles © Thomas Pintarik
Millions of visitors arrive each year in Los Angeles, eager to experience first-hand the famed land of modern mythology, wondrous optimism and immense creativity. The fantasy worlds of Disneyland and Hollywood, the extravagance of Beverley Hills and Malibu, and the sun-soaked beach culture are just some of the attractions within the 'City of Angels'.
Los Angeles is not really a city but rather a sprawling metropolis constituting more than 80 smaller city areas woven together by a daunting network of traffic-congested freeways without a clearly defined centre. LA is just one of these cities with Downtown at its heart, and lying outside the city limits is the surrounding conglomeration of cities that comprise LA County.
Los Angeles offers a dazzling variety of attractions and world-famous amusements. Downtown is a mixture of cultures and local communities: the traditional herbalists of Chinatown's Bamboo Lane; Little Tokyo with its sushi bars and Japanese gardens; and the narrow Latino-influenced Olvera Street. Los Angeles County is endowed with a rich diversity of backgrounds and a mix of people from 140 countries speaking 96 different languages.
West Hollywood: the focal point of gay and lesbian culture, the posh beachside resort of Santa Monica, body-builders at Muscle Beach and the childhood fantasy of Disneyland all add to LA's diversity. There are exciting museums, cinemas featuring every conceivable production, fashionable boutiques, comedy clubs, poetry readings and coffee house recitals, and music of every kind played in various venues throughout the city.
Underneath the huge 'Hollywood' sign on the crest of the Hollywood Hills, the high energy and pleasure-seeking atmosphere, bold billboards, beautiful sun-bronzed people, bright lights and fancy cars are images of a city that everyone loves to hate; but whether one likes what one finds or not, Los Angeles must be experienced at least once in a lifetime.