British Virgin Islands

---

---

---

---

---

---
Virgin Gorda Travel Guide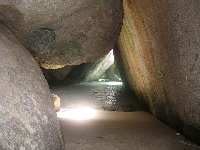 The Baths © Jaro Nemčok
The coastline of Virgin Gorda is famous for the hundreds of bays and inlets that fracture its coastline, creating a seemingly magical world of caves, pools and coves. Virgin Gorda is the third largest of the British Virgin Islands and is known as a haven for yachtsmen and holidaymakers, providing private, safe anchorages, and secluded beaches.
Christopher Columbus was responsible for the name of the isle, which means 'Fat Virgin', because its shape reminded him of a reclining woman with a distended stomach. The heavy belly is the island's central high point, known as Gorda Peak, from which lush indigenous vegetation crisscrossed with numerous trails spreads down to the coast and the azure sea. Virgin Gorda, just less than nine square miles (23 sq km) in area, is still a virgin paradise in many respects, as land development is strictly controlled. The island's resorts are luxurious and discreet, staffed almost entirely by local residents, and blending gently into the idyllic surroundings.
Virgin Gorda, like all the British Virgin Islands, has a number of idyllic beaches perfect for lounging and water sports, including Savannah Bay, Handsome Bay, and Big Trunk Bay. Devil's Bay National Park also has its own secluded beach, only a 15-minute walk away. The beaches are all beautiful, but the star attraction on Virgin Gorda is the Baths on its southern shores, where a jumble of gigantic granite stones lie half submerged. The boulders have formed fascinating grottoes, tunnels, arches and pools: a playground for exploring and snorkeling. The fascinating rock formations were caused by volcanic activity thousands of years ago and today are the most visited natural wonder in the region.
The island's main town, Spanish Town, presents an unhurried, laid-back atmosphere, where visitors can take their time browsing among a plentiful supply of shops offering souvenirs, beach-wear, fashion items and local arts and crafts. There are also numerous restaurants, most with catchy names like 'Mad Dog' and 'Sip and Dip', serving up the delicious local cuisine, including unsurpassed lobster feasts.