Sao Luis Travel Guide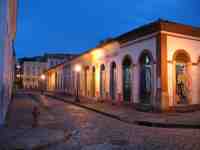 Sao Luis at night © Gilles Pansu
Unique for Brazilian state capitals, Sao Luis was founded by the French, although they barely had enough time to establish a settlement before the Portuguese conquered it. Today, Sao Luis boasts the most well preserved colonial architecture in all of Latin America, with a historic centre that has been designated a UNESCO World Heritage Site and a shabby, picturesque charm that delights visitors. In addition to its impressive historical centre, Sao Luis is also one of three Brazilian state capitals built on a collection of islands, which adds considerably to the city's allure. The city has also produced many famous Brazilians; it is fondly called both 'the Island of Love' and 'the Athens of Brazil' due to the many celebrated writers and poets who have called it home, including Gonçalves Dias.
Cobbled streets and pastel-coloured mansions as well as art galleries and craft shops beckon tourists to the historic centre, and the lively reggae scene and vibrant Afro-Brazilian culture is seductive. Tempting as the quaint and colourful streets may seem in the moonlight, however, visitors should note that, as with most Brazilian cities, Sao Luis should not be explored alone at night.
A boat trip across Sao Marcos Bay brings travellers to the lovely historic town of Alcantara, where the aura of laid-back tropical decay seems only to have intensified its charm.