Florianopolis Travel Guide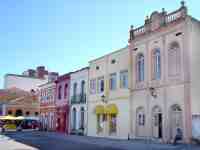 Florianopolis © Fernando Dall'Acqua
Florianopolis, a city spanning several islands, is the capital city of Santa Catarina state in southern Brazil. Known for the high quality of life of its residents, Florianopolis has earned a place on many prestigious lists as the best city to live in Brazil. The contentment of locals is not surprising considering the beautiful setting of the coastal island city and the colourful colonial charm of its older districts.
Florianopolis is home to 60 beaches and is a very popular tourist destination, luring many surfers and sun-worshippers. In fact, the city might be best known for its surf breaks, with a range of waves to delight both complete amateurs and experienced professionals. The best beaches in the city include Barra da Logoa, the ideal surfing beach for beginners; Ingleses Beach, a favourite with tourists and sand boarders; Campeche Beach, a superb surfing beach, with white sands and often turbulent waters; Joaquina Beach, which has excellent tourist infrastructure; and Santinho Beach, a peaceful, unspoiled stretch popular with nature-lovers.
The city is also renowned for its fun and energetic nightlife, its unique culture and folklore, and the great seafood provided by the many fishermen from the various fishing villages along the coast. The main island, Santa Catarina, is connected to the mainland by three bridges. The old Hercilio Luz Bridge, now closed to traffic, is one of the most recognisable landmarks of the city, gracing many postcards. The north of Florianopolis is the busiest, the most picturesque, and the most popular part of the city with travellers, containing sites such as the historic city centre, a 19th century market, and the ornate Museu Histórico de Santa Catarina.