La Paz Travel Guide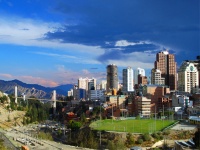 La Paz © Donvittore
The air is indeed rare in La Paz, the world's highest capital city, which stands at two and a half miles (4km) above sea level. La Paz is built in a kind of natural bowl: around the rim one might find small industry and workshops, while the inside slopes are scattered with houses, and the bottom is the dense city centre. Inside this hyperbolic mountain city, travellers will be met by all manner of contradictions from soaring, efficient airlifts to choking diesels engines in congested traffic, and shimmering hotel façades opposed dark alleys and ramshackle brickwork.
Rising up in the background is the most well-known of Bolivia's lofty peaks, Illimani, which rises to 21,188 feet (6,500m) and dominates the view from inside the city. However, one of the best views to be had from above the city on the new cable car commuter network (Mi Teleférico), which is the highest and longest network of its kind in the world and connects El Alto to La Paz.
More than a million people live in La Paz, adding colour, culture and vibrancy to the city. As a result, one of the most rewarding (and least exhausting) activities is people-watching. Andean women dress in brightly coloured, multi-layered skirts and thick, knee-length stockings with bowler hats perched jauntily on their heads; smartly dressed businessmen and scruffy street urchins wrapped in woven blankets, shoe shiners and fruit sellers, trinket vendors and alpaca wool weavers all mingle together to stitch together La Paz's social fabric. For the more active, there are plenty of walking tours on offer both in and outside of the city. The truly adventurous might try the 'Death Road' mountain biking tour, which involves a two hour trip from Bolivia's capital.
The city also offers interesting museums, modern and comfortable hotels, and is an excellent place to purchase authentic local souvenirs. Beautiful hand-spun alpaca wool products, paintings, and handcrafted silver jewellery are just some of the many things on offer.
Tour operator G.A.P Adventures has for the past 14 years specialised in unique, small group, grassroots adventure travel experiences in the world's most wild places, going off the beaten track into the heart of the destination to meet the locals who call it home. G.A.P. Adventures offers several expeditions to the Bolivian Amazon and Andes.
---
Intrepid Travel, one of the world's leading suppliers of small group adventures, focuses on getting off the beaten track, interacting with the locals and having real life experiences throughout Bolivia.
---