Saint George Travel Guide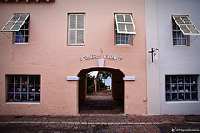 St George's © Rian Castillo
Saint George (often called St. George's, a confusion with the parish it is in) is the second town and former capital of Bermuda. St. George is described as the oldest, continually inhabited English settlement in the New World. It was founded in 1612 and served as the capital of Bermuda until eclipsed by Hamilton in 1815. Because of a shift of business and government to Hamilton, St. George did not have its streets and buildings demolished and rebuilt, as in Hamilton, and so looks very much as it did 250 years ago. In fact, because of its many heritage buildings, it was declared a UNESCO World Heritage Site during the 1990s.
Due to its status as a World Heritage Site, there are many fine old, colonial streets and buildings to immerse yourself in; streets and alleys with fanciful names such as 'Featherbed Alley', 'Old Maid's Lane', 'Silk Alley' and 'Needle and Thread Alley'. However, the best thing to do upon arrival in the town is head for the main King's Square.
King's Square was the original main square of St. George and here you can see the Town Hall, the Visitor's Service Bureau and Ordinance Island across the a small bridge directly to your south. During the tourist season (from May to September), actors in period dress provide colour to the community acting as town criers or sentencing men or women to the stockades, pillories or the dunking chair. Getting to this charming little town is easy, as Saint George is accessible directly from Hamilton by bus, and from the rest of the islands by changing buses in Hamilton, or by use of taxis.