Minsk Travel Guide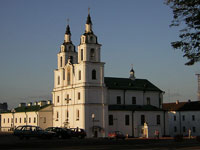 Cathedral of the Holy Ghost © EugeneZelenko
Dating back to the 10th century, Minsk, capital of Belarus, is one of Europe's oldest cities, but it presents a surprisingly modern aspect today, with most of its historic buildings having been flattened during World War II. After the war, during the 1950s, Minsk was rebuilt as a showpiece Soviet city, and little has changed since then. Scrupulously neat wide boulevards and squares lined with grandiose block-style buildings, interspersed with war memorials and Soviet symbols, set the backdrop for this city which is home to about two million people, on the banks of the Svisloch River.
Visitors to Minsk will find it hard not to be struck by the simple pride and joy the local citizens take in their city, which is outwardly quite austere but features interiors which are a somewhat 'over-the-top' attempt at modern sophistication. There are nightclubs and casinos full of mirrors and lights; restaurants with steel and glass levels; theatres oozing baroque both on and off-stage; and a variety of incredibly themed health spas (called 'saunas') where waterfalls cascade into indoor pools. It all adds up to a fascinating experience, which visitors either love or hate, but cannot fail to appreciate.
The present of Minsk is interesting, but so is the past. Because of its central eastern location between Poland and Ukraine, this city has been a European battleground over the centuries, suffering at the hands off the Russian Tsar's troops in the 1600s, Peter the Great and Sweden in the 1700s, Napoleon, and then Hitler. Perhaps it is not surprising that the city is seemingly content under communism-inspired rule after all it endured from imperialism.