Things to see in Canadian Rocky Mountains
Canadian Rocky Mountains Attractions
Tourism in southwestern Alberta revolves primarily around the national parks which showcase the glorious Rocky Mountains. Calgary is the gateway to the Rockies in Alberta, and generally the starting point for holidaymakers heading into the mountainous national parks. In fact, for many visitors, the first view of the mountains is earned by climbing to the Observation Deck of the Calgary Tower.
The most frequented wilderness areas are enclosed within Banff National Park, Waterton Lakes National Park, and Jasper National Park. Jasper National Park is a UNESCO World Heritage Site, deep in the Rockies, where the main attraction is the Columbia Icefields, consisting of eight giant glaciers.
Lake Louise, a surreally turquoise lake trickling out of an ancient glacier in Banff National Park, is one of the must-see sights in the Rockies. There are even some natural hot springs in the Canadian Rocky Mountains, near Banff, which make a great excursion on a freezing winter's day. Waterton Lakes National Park combines with Montana's Glacier National Park to form UNESCO-listed Waterton-Glacier International Peace Park, offering spectacular landscapes.
Popular activities in the Canadian Rockies include hiking, skiing, cross-country skiing, ice and rock climbing, dog-sledding, horse riding, paddling, and more. Visitors should note that the national parks have stringent rules about sports which damage the environment, and some activities are only allowed outside park boundaries.
---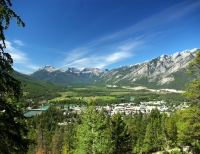 The small resort town of Banff is a holiday destination situated inside the spectacular and unspoilt Banff…
read more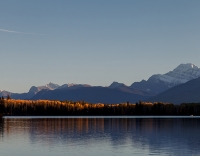 Affectionately known as 'the little town in the big park', Jasper lies in the middle of Canada's largest mountain…
read more