Castell de Bellver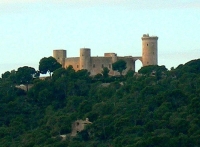 Castell de Bellver © Antoni I. Alomar
This round hilltop castle, built in the 14th century, was the summer residence of the kings of Mallorca during the short period in which the island had a Royal family. The fortified castle with its double moat also served as a prison. Today, it contains Palma's Municipal Museum, displaying mainly archaeological artefacts and old coins. There are also models of archaeological digs to be seen. The castle is rather unusual which makes it interesting to explore. It is situated atop a lovely park area and the highlight of a visit is the building itself and the spectacular views and photo opportunities, rather than the museum exhibitions. Apart from the exhibitions on the ground floor, you can explore a series of chambers upstairs, including the former kitchen (although these rooms are closed on Sundays). Don't miss the prisoner's graffiti etched into the stonework, visible if you climb up to the roof. The Bellver Castle is on the route of the Palma City open-top sightseeing buses, but the walk up through the forest to the castle from Placa Gomilla is pleasant and not too strenuous, with many viewpoints to rest at along the way. Bellver Castle is one of the city's top attractions and a must-see for the views alone.
Address: Palma
Telephone: +34 971 730 657
Transport: Buses 3, 4, 20, 21 and 22
Opening times: Monday to Friday from 8am to 9pm, and Sundays from 10am to 7pm (April to June, September); Monday to Friday from 8am to 9pm, and Sundays from 10am to 2pm and 4pm to 8pm (July and August); Monday to Friday from 8am to 8pm, and Sundays from 10am to 5pm (October to March)
Admission: €4 (general), €2 (reduced) Monday to Saturday, free on Sundays.