Newtown Cultural Precinct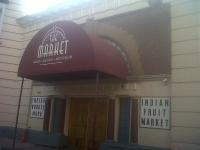 The Market Theatre, Newtown © Bobbyshabangu
This complex of buildings in the city centre has been upgraded and restored as part of the city fathers' urban renewal policy and includes several attractions. The Market Theatre and Museum Africa, for instance, are housed in a Victorian building in Bree Street that was originally Johannesburg's fresh produce market.
The Museum of Africa is particularly worth a visit with its exhibits that tell the story of the city from its beginnings to the present day, including an interesting section about the Treason Trial of the 1950s in which Nelson Mandela and other activists were accused of plotting against the state.
The same building houses a photography museum and the Museum of South African Rock Art. At its eastern end is the Market Theatre, famed for being the venue for many protest theatre productions in the apartheid era.
Also in the area is the South African Breweries Centre, which offers a tour detailing brewing history through some reconstructed gold-rush pubs and shebeens (township bars). Along Jeppe Street is the Oriental Plaza, the commercial centre for the Indian community. Newtown is also renowned for its nightlife, with wonderful restaurants, jazz joints, and clubs that stay open until the early hours.
Website: www.newtown.co.za