Drakensberg Mountains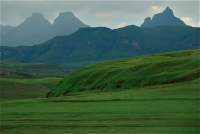 Drakensburg, South Africa © Cwawebber
The jagged peaks of the Drakensberg (Dragon Mountains) tower over KwaZulu Natal's eastern border, providing a paradise for outdoor enthusiasts. The Drakensberg, the highest mountain range in southern Africa, abounds with hiking trails, climbing routes, 4x4 trails, pony treks and adventure pursuits, all accessible from numerous resorts in the lower reaches.
Some of the more popular resorts are Champagne Castle, Cathkin Peak, and Cathedral Peak, while Giant's Castle and its game reserve are famed for the more than 500 rock paintings left behind by the San people on cave walls. Eagles soar around the peaks in the Royal Natal National Park in the north, where the dramatic scenery includes the Amphitheatre, a five-mile long (8km) curved basalt wall.
The region is largely untamed and criss-crossed by lengths of rugged dirt roads. The only road that breaches the mountain range and crosses the border to Lesotho is the hair-raising Sani Pass, which is topped by the highest pub in Africa.
Adventure activities available in this stunningly beautiful area include sheer rock or ice-climbing, abseiling, and white water rafting. It is also possible to take helicopter rides to see the dramatic scenery from above.
Website: www.drakensberg.kzn.org.za