iSimangaliso / St Lucia Wetland Park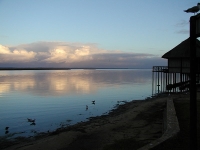 Greater St Lucia Wetlands © inkie1010
In the far north of KwaZulu-Natal are a string of nature reserves and game parks, of which the largest and most exciting is the iSimangaliso Wetland Park, formerly called the Greater St Lucia Wetland Park and often still known by that name.
Dominated by the fascinating St Lucia estuary and lake system, the park includes an unbelievable eight distinct ecosystems, varying from dry thorn scrub to tropical forest and is bordered by giant dunes which are some of the highest in the world.
The park also encloses three major lake systems, beautiful beaches, tropical reefs, Africa's largest estuarine system, and most of South Africa's remaining swamp forests. Big Five game viewing is on offer, and this is the only place in the world where you will see hippos, crocodiles, and sharks co-habiting in the same lagoon.
There are comfortable rest camps and some very picturesque campsites in the park. The Wetland Park was declared South Africa's first UNESCO World Heritage Site in recognition of its natural beauty, unusual ecosystems, and the 700-year-old fishing traditions of local inhabitants, which make the region fascinating from a cultural point of view.
As Nelson Mandela said, it must be the only place on earth where the oldest land mammal (the rhinoceros) and the world's biggest terrestrial mammal (the elephant) share an ecosystem with the world's oldest existing fish (the coelacanth) and the world's biggest marine mammal (the whale).
Website: isimangaliso.com