Rizal Park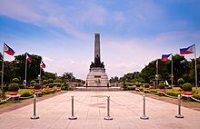 Rizal Park © Maynard Rabanal
The 58-hectare (143 acre) Rizal Park is named for Dr Jose Rizal, a Philippine anti-colonialist, writer and philosopher, whose execution in 1896 sparked the Philippine Revolution. The Declaration of Philippine Independence from American rule was held in the park in 1946, and it has been the heart of several political rallies in the city, making it a symbol of Filipino pride and independence.
The park is one of the largest in Southeast Asia, and it is a green lung much used by the residents of Manila for recreation and entertainment. Rizal Park features numerous ornamental gardens, a chess plaza and a skating rink, as well as a children's playground, an aquarium and a planetarium. In a pond on the east side of the park the Philippine archipelago has been recreated in miniature, and there are also some museums and public buildings within the park. After sunset a sound and light exhibit featuring a recreation of the martyrdom of Dr Jose Rizal is displayed.
Every morning martial arts classes and various fitness groups gather in the park for morning exercise, and on Sundays there is a free concert in the open-air auditorium. Rizal Park is a wonderful place for tourists to go and soak up a little of Manila's everyday life, in a lush and beautiful natural setting.