Intramuros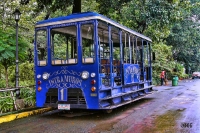 Intramuros bus © Brian Evans
The oldest part of Manila is the walled Spanish enclave of Intramuros on the southern bank of the Pasig River. Intramuros is a feast of historic buildings and churches, many of which are being or have been restored. The reconstruction of Intramuros has allowed for the inclusion of several parks and performing venues, art galleries, souvenir shops and restaurants, so that the area has become an attractive, entertaining and interesting tourist hub.
Fort Santiago, for example, was where political prisoners through the ages, from Spanish to Japanese occupation, were held, tortured and sometimes executed. Today it is a lush park full of flowering trees and homing pigeons, where visitors can take a ride along the promenade on a horse-drawn carriage. Then, in the Barrio San Luis along Juan Luna Street there are five colonial residences that have been beautifully restored.
The area is full of street artists and stalls selling food and there is usually something going on, which gives it a festive atmosphere. All in all, a visit to Intramuros is a must for tourists to the Philippines.