Museo de Oro del Peru (Gold Museum)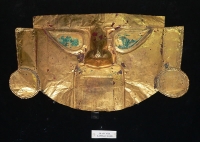 Incan Gold in Museo de Oro del Peru © Manuel González Olaechea
The Museo de Oro del Peru showcases the gold craftmanship of several centuries of Peruvian history. Housed in a fortress-like building are safe-rooms crammed with treasures from the Inca civilisation and their predecessors. In fact, most of the artefacts are pre-Incan, belying the tendency of foreigners to associate all Peruvian treasures with the Incas. The massive collection of gleaming gold statues, ceremonial objects, weaponry, and jewellery compete for attention, and the famous golden Tumi, the symbol of Peru, has been exhibited around the world.
The gold is the focal point of the museum, but the collection includes many other cultural artefacts, including thousands of exquisite tapestries, pre-Incan weapons and wooden staffs, masks, mummies, and clothing. There is also a vast display of antique weapons and uniforms, a reminder of Peru's violent past. The quality of the collection is outstanding and certainly world-class, but the museum is privately owned and the artefacts have not been as professionally displayed as one might expect. Nevertheless, military history fanatics, anybody interested in the pre-Columbian cultures of Peru, and anybody who rather fancies gold will love this museum. It is situated in a residential area, beyond the normal tourist circuit, but is well worth seeking out.
Address: Avenida Alonso de Molina 1100, Monterrico.
Website: www.museoroperu.com.pe