Banos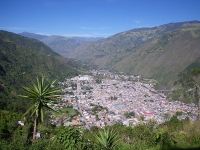 Banos, Ecuador © EddyI
The small town of Banos is a holiday favourite for its hot springs. Framed by majestic mountains and volcanoes, it servas as a gateway to the Amazon rainforest. Situated on the slopes of the active Tungurahua volcano, Banos is also on constant alert for signs of activity from "The Black Giant".
The town is popular with Ecuadorian and international travellers alike, as a place to relax in unspoilt, peaceful surroundings. The best known of Banos' therapeutic hot baths is the Piscina de La Virgin, which is next to a waterfall.
For the traveller looking for more holiday action, there are numerous activities, including horse riding, hiking, and mountain biking. It is also possible to organise trips to the Oriente, the forests of the Amazon Basin, where one can see wildlife, visit indigenous communities deep in the jungle, and experience life in the isolated far reaches of the country.
There are many bars and restaurants throughout the town, often with live folk music. Banos is also home to Ecuador's most famous candy, taffy, which is made from sugarcane. Hanging from hooks in the doorframes of almost every shop, it is an integral part of the Banos landscape.