Ancient Agora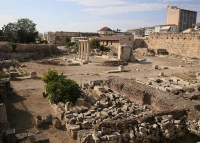 Ancient Agora © psyberartist
Clustered below the Acropolis is the remains of the Agora, ancient Athens' commercial and civic centre, where once walked and talked the great philosophers Socrates and Plato. In fact, the disgraced Socrates committed suicide in a prison in the southwest corner of the Agora, by drinking poison. The area is littered with the ruins of numerous ancient buildings, including the Dionysos Theatre, the world's oldest theatre, where great plays by Aeschylus, Sophocles and Euripides were first performed. One building that has been restored is the 200 BC Stoa of Attalos (a stoa is a long, low-roofed promenade which served as a combination law court, municipal office and shopping arcade in classical Greece). The reconstructed building now has a museum on its ground floor containing artefacts covering 5,000 years of Athenian history. The best place to enter the Agora is from Odos Adrianou, east of Monastiraki Square. The Agora museum is small but very informative and will allow insight into the everyday lives, law system and religion of the people who once worked here. Now a peaceful, pretty area with wild flowers growing amid the ruins, it is fun to imagine the bustling life of the Agora in ancient times.
Address: Adrianou, Athina 105 5
Website: www.agathe.gr/overview/the_archaeological_site.html
Telephone: +30 210 3210185
Opening times: Summer: 8:30am to 7:30pm. Winter: daily 8am to 3pm.
Admission: €8 for adults; €4 for those over 65.