Katmandu Park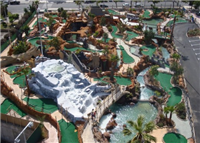 A brand-new, big-budget development, taking over from the very popular Palma Nova Golf Fantasia, Katmandu Park is a theme park and mini-golf complex that is already proving wildly popular amongst younger visitors to Magaluf. Featuring cutting-edge technology, The House of Katmandu provides a thrilling and interactive 'haunted house' experience for youngsters; The Asylum, aimed at older visitors (12 years and older), takes passengers on a scary journey through an abandoned mental asylum; the interactive motion ride Desperado is a comical cowboy gun slinging experience; and there is a 4D cinema to enjoy.
The 36-hole (two 18-hole courses) Expedition Golf area of the theme park is hugely impressive, featuring fun and challenging courses, elaborately ornamented and themed, that even adults will find tough to master. Restaurants include the Kat Bar and Diner, serving American-style food and cold drinks, and the Tequila Villa, a themed restaurant offering Texan and Mexican food. The Tequila Villa is popularly used for stag and hen nights, which demonstrates that Katmandu Park is enjoyed by adults as well as little ones. Take kids of all ages to Katmandu Park for a day of fun and excitement they won't soon forget.
Address: Avenida Pedro Vaquer Ramis, next to the Hotel Magalluf Park.
Website: www.katmandupark.com/en
Telephone: +34 971 134660
Opening times: Open daily 10am to 9pm (February, March, April), 10am to 10pm (May, September, October), 10am to 1am (June, July, August). Closed in November, December and January.
Admission: Cost of attractions vary, starting at about €16 for adults and €10 for children.