Glover's Reef Atoll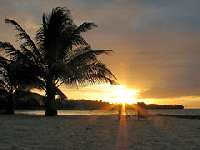 Glovers Cove © tobze
A World Heritage Site located just 28 miles (45km) from mainland Belize, Glover's Reef Atoll is one of only four atolls (ring-shaped reefs made of coral) in the western hemisphere, and a truly mesmerising place to visit. The partially-submerged coral island, which is also a marine reserve, is 20 miles (about 32km) long, and is home to the richest variety of sea life in the Caribbean. The atoll is ringed with white sand beaches, dotted with coconut trees, and its interior lagoon boasts more than 800 coral patches with pinnacles rising above the water's surface.
While Middle Caye and North Caye are uninhabited, there are luxury resorts along Southwest, Northwest, and Long Cayes. Active types can spend all day diving, swimming, snorkelling, and fishing in the turquoise-blue water; Glover's Reef is ideal for scuba diving, and visitors can catch a glimpse of abundant marine life that includes eagle rays, bonefish, groupers, brightly-coloured reef fish, and even whale sharks (usually seen between April and June).
If you're not in the mood to be active, the atoll is also the perfect place to just lie on the sand and do nothing at all. One thing is for sure: with its pristine setting, and relative obscurity, Glover's Reef is an undiscovered gem and a honeymoon destination to put all others to shame.
Website: www.glovers.com.bz