Umgeni River Bird Park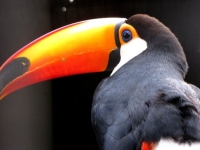 Umgeni River Bird Park © Anya Klaassen
The Umgeni River Bird Park, tucked away near an industrial section of Durban North and the Umgeni River, houses an ever-growing bird population of over 800. Over 200 species of birds live as residents along the shady winding paths.
The park is situated in lush tropical garden in what used to be an old quarry site. It was opened in 1984 after extensive landscaping. The park's free-flight bird show, which runs from Tuesday to Sunday at 11am and 2pm, has been entertaining families and school groups for over a decade, featuring vultures, owls, cranes, and other impressive fowl.
The free-flight shows are also available on Mondays during South African school holidays but not outside of these dates. The birds included in the show change frequently and a visit to the park is hardly complete without seeing this performance.
There is also an undercover cafe in the heart of the park that offers refreshments and light meals. The park is accessible by bus, but the route is not in constant use.
Address: 490 Riverside Road, Durban
Website: www.umgeniriverbirdpark.co.za