Moses Mabhida Stadium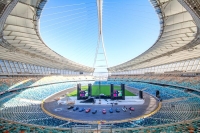 Moses Mabhida Stadium, Durban © Party Sooth
The Moses Mabhida Stadium was built for the 2010 FIFA World Cup and is one of South Africa's most picturesque stadiums. With its iconic 'arch of triumph', the waves of the Indian Ocean crashing in the background, and an amazing view of Durban's Beachfront, the stadium is an epic place to take in a sports game.
However, also offers some other attractions which will delight tourists. Adventurers will be able to enjoy the rush of the Big Swing, the world's only stadium swing and the largest swing of its kind in the world. After an adrenalin-pumping jump from the stadium's arch, 348 feet (106m) above the pitch, people will swing out over the pitch and 80,000 seats below. Think of it as an upright bungi jump.
The Sky Car is perhaps the stadium's most notable attraction. It ferries up to 20 people to the stadium arch's highest point, from where they can enjoy incredible panoramic views of the city, while the Skywalk takes visitors up 550 steps of the arch and back down again.
There are also a bunch of shops and restaurants at the stadium and tours are available for those who want to explore. The various attractions at the stadium all have different costs and timetables. Check the official website listed below for details.
Address: Isaiah Ntshangase Road (Walter Gilbert), Durban
Website: www.mosesmabhidastadium.co.za