KwaZulu-Natal Sharks Board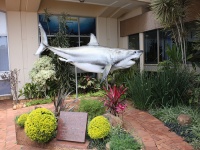 Natal Sharks Board © whiskymac
For something fun and educational, take the kids to the KwaZulu-Natal Sharks Board, just nine miles (15km) north of Durban, in Umhlanga, to learn about the marine life that lives off the shores of Durban's Golden Mile.
The Sharks Board maintains the shark safety gear that protects the coastline. It also does research into sharks and running a public education programme. There are almost daily presentations and shark dissections at the complex and kids will love visiting the display hall to view the variety of lifelike replicas of sharks, fish and rays, including that of a 1966-pound (892kg) great white shark.
The dissections can be disturbing for sensitive kids but they are fascinating and very educational, and some odd things have been discovered in the bellies of sharks. There are even boat trips running seven days a week, early in the morning, to view the shark nets being serviced.
On these trips, kids can see and learn about the dolphins, seabirds, and fish life that abound off Durban's coast. Boat trips must be booked in advance. The Sharks Board is near Gateway Mall and the Umhlanga Rocks city centre.
Address: 1a Herrwood Drive, Umhlanga
Website: www.shark.co.za