SAB World of Beer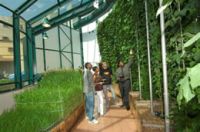 World of Beer © SAB World of Beer
SABMiller started in South Africa and has expanded to become one of the world's largest and most popular brewers of beer. The World of Beer offers a fun, short tour, which summarises the history of the company, beer in general, and details the brewing process.
The tour begins with a televised talk from Charles Glass, the brew master of the famous Castle Lager and the man responsible for laying the foundations of South African Breweries (SAB). The tour also covers ancient beer brewing in Mesopotamia and how it spread through Europe and Africa.
Visitors get to learn about and sample traditional South African sorghum beer, and explore the evolution of brewing in South African culture. They will then visit the green houses where the raw ingredients are grown.
The price includes one beer during the tour, a souvenir glass, two drink vouchers redeemable in the Tap Room, and bar snacks after the tour. Only those over 18 (the legal drinking age in South Africa) will be allowed to partake in the beer drinking.
However, all ages are welcome on tours and the visit should prove interesting even for non-beer drinkers. Visitors are welcome to stay in the pub and have a few drinks for as long as they desire after their tour.
Address: Corner of President and Miriam Makeba Roads, Newtown
Website: www.worldofbeer.co.za