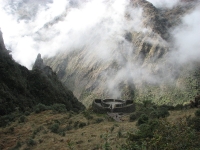 Runkuraqay, Inca Trail, Peru © Steve Pastor
The world famous Inca Trail is just one of the numerous paths built by the Incas that crosses remote parts of the Andes, but this 27-mile (43km) stone paved trail was constructed as a royal highway to reach the impregnable citadel of Machu Picchu lying high in the mountains and deep in the cloud forest. It is the foremost hiking trail in South America and one of the most dramatic and popular walks on the continent and in the whole world; it is also the most rewarding and authentic way to reach Machu Picchu. The beautiful but arduous four-day trail is part of the Machu Picchu Historical Sanctuary, a designated World Heritage Natural and Cultural Site that crosses over three high-altitude mountain passes, the highest at 13,440 feet (4,200m), and passes various ruined Inca settlements scattered along the way. Surrounded by breathtaking natural scenery, fantastic mountain views, forests, and exotic vegetation, the ancient royal route finally reaches the stone Sun Gate from where the long awaited sight of Machu Picchu becomes visible below, with the looming peak of Huayna Picchu in the background.
The hike must be arranged with an official Inca Trail tour agency as part of an organised group. Independent trekking is prohibited. The amount of hikers permitted on the trail at any time is limited and permits are required; travellers are advised to book these permits long in advance to avoid disappointment. The Inca Trail is steep and the altitude makes it especially challenging; although it is incredibly popular, it is not easy and should not be undertaken lightly.