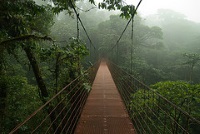 Monteverde © Clifton Beard
The Sky Walk is a well-thought-out combination of suspension bridges and walking trails through the Monteverde rainforest. These bridges span canyons and drainages, and bring visitors face to face with the upper level of the forest canopy. Various companies also offer visitors a unique and exhilarating way of viewing the cloud forest - a canopy adventure with a system of platforms connected by zip lines and suspension bridges criss-crossing the top of the forest, providing a vantage point from in and above the canopy. There is also the more sedate option of a ski lift traversing the treetops.
Monteverde's cloud forest is one of the most famous ecotourism areas in Central America. It is called a cloud forest rather than a rain forest because of the altitude. At an elevation of between 3,840ft and 5,120ft (1,200m to 1,600m), the clouds go through the forest creating a misty and often dripping, mystical habitat supporting a rich biodiversity of flora and fauna. It has been acclaimed as one of the most outstanding wildlife refuges in the New World Tropics. Because of the fragile environment, there are restrictions on the number of visitors allowed into the reserve at any one time. The canopy is alive with over 400 species of birds, including the resplendent quetzal most easily seen during the March/April nesting season, as well as thousands of insect species and plants. In the shadows below are over 100 species of mammals, including five species of cats, although a glimpse of a jaguar is a very rare thing.