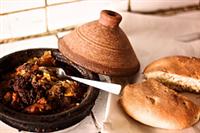 Moroccan Meal © Jonathan Hood
Cooking classes are becoming an increasingly popular tourist activity in Morocco. Moroccan cuisine has a rich and varied history, showing traces of Berber, Andalusian, Turkish, Middle Eastern and (most recently) French influence. It is not only healthy and delicious, but relatively simple to prepare once you've been shown the ropes. Moroccan cooking classes are mainly offered in the popular tourist areas of Marrakech, Fez and Essaouira and usually also involve an overnight stay in a riad (a traditional Moroccan home with an interior courtyard).
A typical half day cooking course will involve a trip to the local market to buy fresh ingredients, and then a demonstration of how to prepare a couscous and tagine dish. Cooking in a tagine - an earthenware dish with a conical lid - is a time-consuming affair which is richly rewarded by the aroma and taste of its succulent and tender contents.