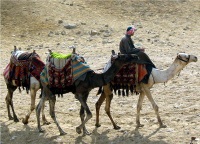 Camel Trekking © Jordan Busson
Although camel trekking is a popular tourist activity all over the world - from Oman and India to Mongolia - there is surely no better way to test your mettle than to board a 'ship of the desert' in the biggest and most unforgiving desert of them all, the Sahara. Camel trekking in Morocco is hugely popular, giving all visitors a chance to experience life as a desert nomad for a few days.
Typical camel treks in Morocco will include a guide, light meals and bottled mineral water, as well as the unique opportunity to spend your nights in a traditional Berber tent. There are many places where these adventures can be booked, but tourists are urged to head to the small village of Merzouga and to strike out from there. Be sure to book camel trekking trips with reputable tour operators that treat their animals well, as the impression that the camels are not well-cared for may ruin the experience.