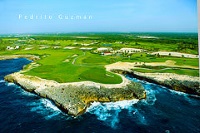 Golf © Pedrito Guzman
The Dominican Republic is a golfer's Treasure Island. First putting an 'x' on the Caribbean golf map when Teeth of the Dog course opened in 1971, the country has been a destination among golfers ever since. Its re-discovery, in terms of new courses, golf resorts and community development, has only occurred in the last few years. But the exploration isn't over as tourists can now wander the fairways of championship courses for days.
The Punta Cana Resort is one of the island's most famous, with course designers such as local legend Pete Dye and golfing legend Jack Nicklaus. A host of equally luxurious resorts have ocean view holes and tropical foliage-lined fairways from famed names such as Nick Faldo and Robert Trent Jones. Summer months can get too hot for midday tee-offs but resorts give discounts to the hardy souls who make the effort.