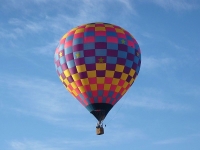 Ballooning over the Masai Mara is a popular activity in Kenya © Bryan Kennedy
There is nothing that can compare to the rare experience of Masai Mara game viewing while standing quietly in the basket of a hot air balloon as it floats through the calm dawn skies. With such elevated panoramic views, visitors are guaranteed a great African experience. Generally speaking the best time to travel to Kenya for game viewing is in the dry season between January and March, and July and October. Some travellers are also lucky enough to witness the phenomenal wildebeest migration which usually takes place in the Mara between June and August annually.
Most operators start the day with a dawn coffee rendezvous, before inflating the balloon and lifting off just before sunrise. The Masai Mara plains with their wealth of wildlife (and often the Big Five) are an incredible spectacle from this elevated position; the balloon will descend occasionally for a close-up look at the wildlife, or rise to clear the riverine forest. The thrilling excursion could be finished off with a champagne breakfast out 'in the wild', or a game drive back to the take-off point. The balloon safari can be incorporated in a camping tour or booked separately, and there are about seven lodges offering this adventure in the Masai Mara.